NEW Industrial PC with 7" Single-touch Control Panel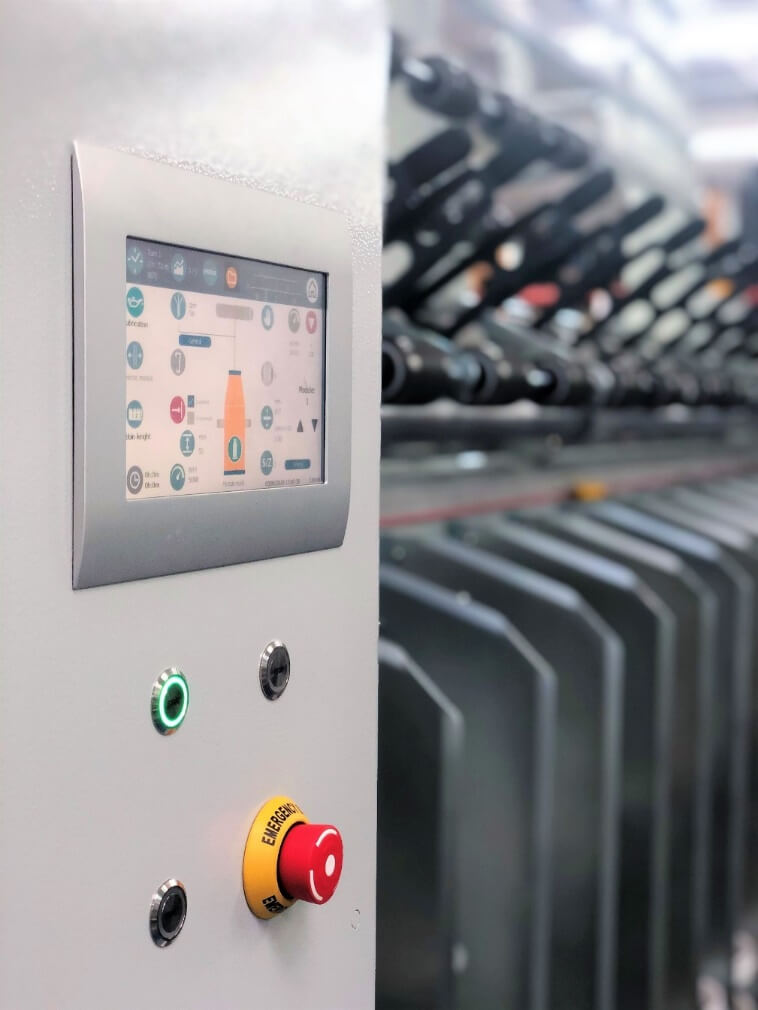 GALAN'S new twisting machines with full implementation of the latest Industry Standard Monitoring Solutions.
Taking customers to Ind. 4.0 to bring many advantages for everyone.
The NEW Industrial PC complete with 7" Single-touch Control Panel is supplied with the new twisting machines and as requested have been developed to interface with Industry 4.0 to improve machine efficiency and monitoring. Since 1st June, Galan has made this available within the full range of machines offered, allowing one to connect with your own device whether in the factory, your office or from your home. GALAN are fully committed to offer valued and potential customers with such innovative and cost-efficient solutions.
Industrial PC with 7" Single-touch Control Panel (Display CTB0719):
Processor with Windows CE.
Adjust: RPM spindles, TPM, independent twist, delivery speed, S/Z direction of twist, individual meter preselection, individual and collective meter count, timer to broken yarn detectors, bobbin shape, height and conicity, password and memory for more than 100 recipes.
Save recipes, alarms history and configuration Through a USB.
EtherCat terminals and inverters that allow the control of module operation, know the status of each emergency stop and each spindle, speed delivery, pump oil level, lapping, pressure switch, exact positioning of the ring rail, start and stop module, tower signal and inputs/outputs planned for future modifications.
Control several modules or machines from only one Control Panel installed on Master machine.
Broken yarn detectors union. It allows to program the different detectors of broken yarn to a specific spindle.
Includes safety PLC.
Remote access option via Web Server:

Access via a VPN (Virtual Private Network) tunnel directly to the PLC, downloading a free app.
View all control screens in the browser, whether PC, mobile or tablet.
Connect remotely for maintenance, updates and troubleshooting from the technical service of Galan.